Click Image for our Current Newsletter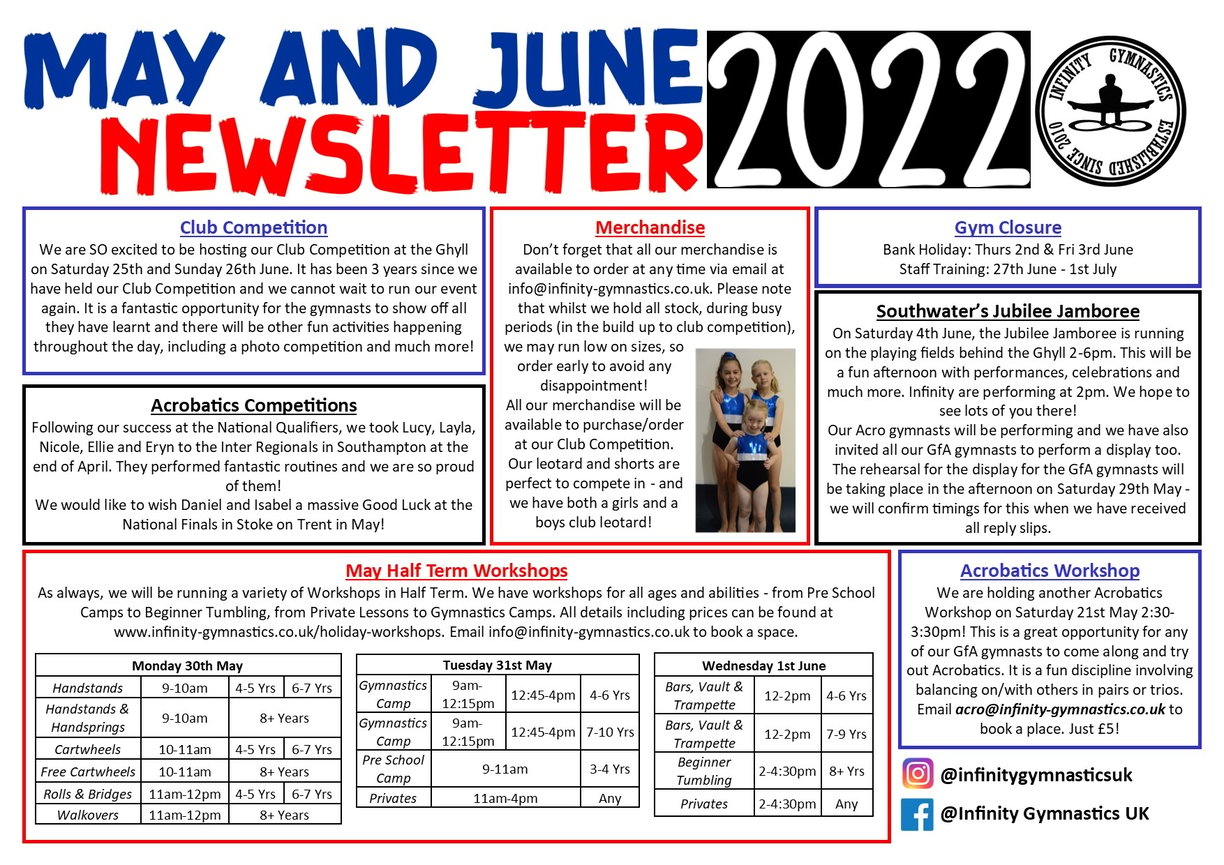 We are allowing parents to all Pre-School and GfA classes from Tuesday 10th May until Monday 16th May. This is the first time we will be running this since the gym has been fully set up and therefore, please read the following important information:
You do not need to book, however there is very limited space and therefore maximum of 2 spectators per family (including children. Please listen to the coaches on when and where to enter the hall when you arrive.
We have some sessions with more children than seats if all gymnasts have two spectators and therefore seating will be limited and if there isn't an available seat you will be required to stand or sit on the floor.
You will be seated very close to the floor due to the limited space and therefore please always keep any young children with you for safety reasons.
There will be no space for prams inside the leisure centre.
Noise MUST be kept to a minimum. Some classes have 6 groups of gymnasts, and it is vitally important that the children can hear their coach. You will be asked to leave if the noise reaches a level where we feel it is a safety issue.
The children, especially the younger children, obviously get excited when the parents are watching. Please refrain from instructing your children during the session as the coaches have spent a lot of time building up a rapport with their group.
Although we have run a successful Watching Week previously, this is the first time in this situation and therefore future watching weeks and how regular we offer these will depend on how well this week goes. We would like to offer these as often as possible.
You are welcome to leave part-way through the session but as a closed centre, no spectators can join part-way through the session as there might not be an available coach to let you in and we do not want to disrupt the sessions further.
THE PERFORMANCE ZONE
The Performance Zone offer a state of the art Fitness Studio and Sports Injury Clinic serving Southwater, Horsham and surrounding areas. They specialise in a range of services such as Personal Training, Sports Therapy, Sports Massage and Nutritional Therapy.
The Performance Zone are offering our members a 4-week trial for £24.99, this includes a 45 minute 1-on-1 PT sessions as well as unlimited gym, classes and group personal training for a 4 week period. They are also offering 10% discount on their physiotherapy and sports massage which equates to £49.50 for an hour session.
Contact Details
https://theperformancezoneuk.co.uk
01403 613093
matthew@theperformancezoneuk.co.uk

Friday 15th April - Closed
Saturday 16th April - Closed
Monday 18th April - Closed
Monday 25th April - 9th May - Badge Testing
Monday 2nd May - Closed
Thursday 2nd June - Closed
Friday 3rd June - Closed
Saturday 25th & Sunday 26th June - Club Competition
WOULD YOU LIKE TO MEET OUR TEAM?