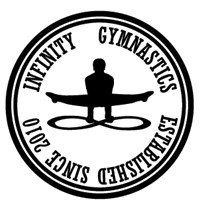 Competition 1 Registration time 8:45am Presentations approximately 11:00am
Competition 2 Registration time 12:00pm Presentations approximately 2:15pm
Competition 3 Registration time 3:15pm Presentations approximately 5:30pm
Infinity Gymnastics Club Competition, on Sunday 26th June at The Ghyll, Pevensey Road, Southwater, RH13 9XZ.
Please arrive for your child's registration time, please do not arrive more than 5 minutes before this time. Please ensure your child arrives dressed ready for competition, wearing as little extra clothing as possible, and wearing the attached wristband.
Girls - Leotard or Infinity T-shirt or T-shirt & Shorts
Boys - Leotard & Shorts or Infinity T-shirt or T-shirt & Shorts
· No knickers to be worn under the leotards
· Hair is required to be neatly tied back, away from their face and eyes.
· NO EARRINGS or jewellery should be worn including material bracelets.
Important Information
Please WALK if you are local but if you need to drive, please see below for the car park and dropping off procedure for the competition. This is to ensure everyone is safe when arriving and therefore PLEASE READ!
There will be a small additional spectator charge to this event, £1 for adults, 50p for children 5-16years and under 5's are free. We will be taking CASH payments ONLY. Those who pay the spectator fee on Saturday for our Acrobatics competition and would like to attend again on the Sunday, please ask for a wristband and those wearing this on Sunday will not be required to pay again.
Unfortunately, we are unable to run this event without volunteers. We require some assistance during the competition and if anyone can help, this will only be during their child's competition and NOT during the round when they are competing. The day will be split into 30-45 minutes sections for volunteers. If anyone can volunteer their time at any point during the day, please contact info@infinity-gymnastics.co.uk. Anyone volunteering will not be required to pay spectators fee for themselves and their family for up to 4 people.
Please follow the signs and wait outside the sports hall until a member of Infinity's staff allows you to enter. Spectators must stay in the spectator areas and are not permitted on the gymnastics competition area. Please try and stay in the centre during the competition and if you do exit, please ring buzzer 1 and wait for us to open the door. Spectators MUST NOT open the door for others.
Please ensure noise is kept to a minimum during the competition and limit your movements in the seating area when gymnasts are competing. If you wish to take your own photos/videos, these must be used for PERSONAL USE ONLY. FLASH PHOTOGRAPHY IS STRICTLY PROHIBITED.
Any young siblings who are spectating, must be supervised at all times and accompanied by an adult to the toilet. Each competition has three rounds. Coaches are responsible for the gymnasts during their competition round, parents and guardians are responsible for the gymnasts during the other two rounds.
Please do not eat in the gym, however you can use the Lardner Hall in the centre to eat. The new Café area will be open for you to purchase food and drink during the day and you can exit the premises through the café if need be. Infinity will have an area where our Leadership Academy will be running some stalls. The rounds where the gymnasts are not competing are a perfect time to go and see them and show your support in their attempt to raise money for the club 😊
We will be selling our merchandise during the competition. We will only be accepting cash payments on the day or we can add to your monthly payment via invoice or Direct Debit.
We will be running a Raffle in all three competitions and therefore if you have a potential prize or know of a company willing to donate a prize, please contact Beth at admin@infinity-gymnastics.co.uk or message 07763 185554.
All competitors will receive a certificate and medals will be presented for the top 3 performers plus a small award for 4th, 5th and 6th position on Floor, Vault and Overall score in each category. We will also be presenting additional awards and trophies to those nominated by their coaches.
Car Park & Drop Off Instructions
Parking is always busy at Infinity Gymnastics events, so if possible, PLEASE WALK.
However if you do need to drive, please read the following instructions:
· Please by mindful of our neighbours by not parking in Pevensey Road or the turning spur just outside The Ghyll.
· If The Ghyll car park is full, please drive round to the overflow car park off Fairbank Road, beyond Lintot Square. This takes a while so please allow plenty of time. Also, please don't leave your car there after the event as it gets locked up.
· Cars with a disabled badge and occupant or those without a badge but with occupants on crutches / in wheelchairs can use the limited number of marked disabled bays opposite the entrance to The Ghyll car park. However this is limited as we also need to keep space for emergency vehicles, so please book a space in advance with us, advising the make, model, colour and registration number.
· Always supervise children at all times and take car walking in the car park. · Observe the speed restriction and don't use your mobile phone while driving.
· The Ghyll has parking to the left and right as you enter, so to give the vehicle in front more time to park, please turn the opposite direction to fill up both sides.
· Park within the white lines in the car park. If you have a particularly wide or long vehicle, please park in the overflow car park off Fairbank Road.
· If dropping-off unaccompanied children, please park up.
· There is no designated drop-off area for dropping-off adults and accompanied children, so if busy please park up to avoid causing congestion, or use the overflow car park.