ARRIVAL TIMES for gymnasts
All Acro Squads - 9:30am (pick up at 3:15pm)
Display 1 - 9:45am
Display 2 - 11:30am
Display 3 - 1:30pm
See below which classes are in each displays
IMPORTANT INFORMATION - Please read
Gymnasts
Please ensure gymnasts attend on time – arrival times can be found above
Please ensure they have a bag for all their belongings and ensure that any clothing and water bottles are clearly labelled
All Acro & GfA gymnasts will stay with the coaches for the duration of display. Please do not approach them on the gym floor
All Pre-School gymnasts will sit with their parents after their performance
Spectators
Please ensure you bring your tickets with you. No entry will be given without your ticket – these will be given to your child at their sessions
We have over 100 gymnasts in each display with 180 spectators therefore, where possible, please walk to the Centre to avoid traffic congestion.
If you are driving:
Please keep an eye out for our volunteers to help you park safely
Please keep your speed to a minimum and refrain from using your horn, please be patient
As you enter the car park, please keep the disabled parking straight ahead, clear at all times
Please use both the Centre car park and the overflow car park which you can access at the bottom of the Lintot Square
When you enter the gym, please use all available chairs and everyone should be seated when the display starts
You are welcome to take photos and videos but these must be used for personal use only and not be posted online if they have other children in them
Through these times, we would recommend that you wear a mask and please respect others
SUNDAY 12TH DECEMBER - The Ghyll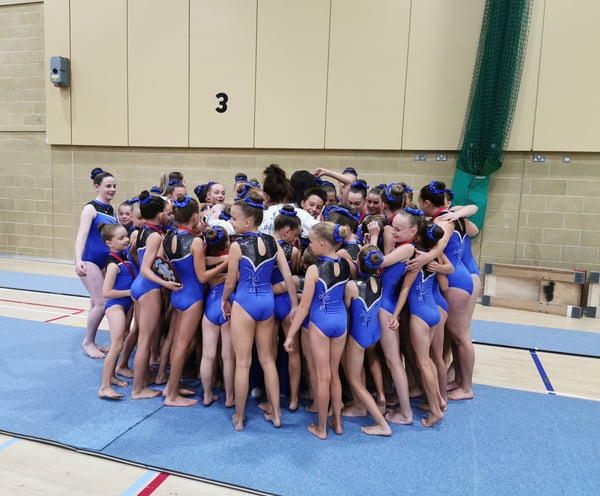 Monday & Wednesday Pre-School
Monday Home Ed
Monday GfA 4:00-5:00pm
Monday GfA 5:05-6:05pm
Monday GfA Plus 6:10-7:25pm
Friday Adv. GfA 4:15-5:45
Acro Squads
Thursday Pre-School 9:45-10:30am
Thursday GfA 4:00-5:00pm
Thursday GfA 5:05-6:05pm
Thursday GfA Plus 6:10-7:25pm
Tuesday GfA 4:25-5:25pm
Tuesday GfA 5:30-6:30pm
Friday Adv. GfA 5:50-7:20pm
Acro Squads
Saturday Pre-School 9:00-9:45am
Saturday GfA 9:50-10:50am
Saturday GfA 10:55-11:55am
Saturday GfA Plus 10:55am-12:10pm
Tuesday GfA Plus 4:15-5:30pm
Wednesday Adv. GfA 7:30-9:00pm
Acro Squads
CHRISTMAS DISPLAY - TICKETS
We are very happy your child will be participating in the Christmas display on Sunday 12th December at Infinity Gymnastics Club, The Ghyll, Pevensey Road, Southwater, RH13 9XZ
Preferred Pre-School & GfA Attire Infinity Club Leotard (& shorts) or Infinity T-shirt and Shorts
Alternative Pre-School & GfA Attire Leotard or White T-shirt and Shorts
Preparation Squad Attire Black & Bubbles Training Leotard
Development & Senior Acro Squads Attire Competition Leotard
· For child protection reasons, please ensure no underwear is showing. Leotards are designed so that gymnasts do not need to wear knickers.
· NO JEWELLERY to be worn, including earrings and hair must be neatly tied back in a ponytail or bun (Acro gymnasts must have their hair in a bun)
· All gymnasts MUST bring a BAG to put all clothes, shoes and a drink in (+ a packed lunch for acro)
Doors will be open 5-10 minutes before for spectators. Spectators cannot stay in the hall between displays.
Gymnasts are required to attend 15 minutes before the start of their display.
All participants will be guaranteed one spectator ticket; however, ticket requirements must be confirmed by email to tickets@infinity-gymnastics.co.uk. Additional tickets will be offered on a first come first served basis from Monday 22nd November 9:00am. Any emails sent before this will not be processed.
Please include the following:
· Gymnast Name
· Display (1, 2 or 3)
· Number of tickets required (including guaranteed ticket)
· Method of payment: Direct Debit or Invoice
Please note, all pre-school children will join their parents in the audience after their performance, please purchase an extra ticket if you would like them to have their own chair.
Tickets are £5.00 each and anyone that requires a chair must purchase a ticket regardless of age. For Health & Safety reasons there are no standing spaces.
We look forward to seeing you soon and please email info@infinity-gymnastics.co.uk for any questions.
Yours sincerely, Kirstine Denman, Director and Head Coach
With the kind support of @Home Estate Agents
Tel 01403 886 288
www.athomeestates.co.uk | help@athomeestates.co.uk
@Home make a donation from each sale to a local, community-based group of your choice. Show your support to Infinity by selling through @Home.